ACA COMPLIANCE




Operational Assessment, Full-Service Reporting, & Risk Mitigation
HEALTHCARE REGULATIONS
RestaurantLink offers a dedicated and outsourced department, to achieve 100% compliance and reporting for the Affordable Care Act so you can reclaim your time, and achieve peace of mind. We will handle this process from day one throughout the year.
The entire process of monthly tracking and annual reporting is handled by an analyst, dramatically reducing the administrative burden on restaurant staff. Additionally, we can provide guidance on tailored filing strategies based on nuances specific to restaurant operations.
Contact Us For a Free Risk Assessment
Our ACA Compliance Solutions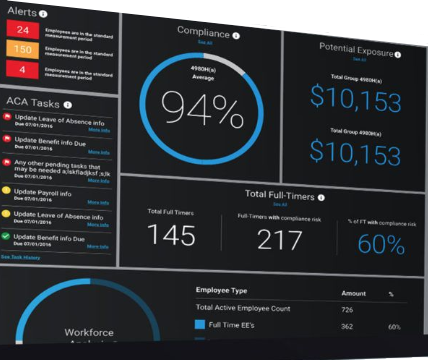 IRS Controlled Group and Common Ownership analysis.

Applicable Large Employer ("ALE") analysis.

Measurements/Stability Period analysis.

ACA compliance review of Waiting Period limitations and Minimum Value confirmation.

IRS 6055/6056 reporting compliance through tracking and administering payroll and benefits data for 1094 and 1095 annual filings and disclosures.

Monthly reporting identifying all employees to whom offers of health insurance coverage must be extended.

Call Center for employee education and enrollment assistance utilizing our proprietary software and methodology that optimizes and reduces healthcare costs for both employees and employers.

Section 4980H penalty exchange notice appeals processing.

Preparation, filing, and distribution of 1094 and 1095 forms.

PCORI and Transitional Reinsurance Program fee calculations.

ACA IRS audit assistance.
The ACA is Complex.
Our dedicated specialists can navigate through the uncharted world of ACA COMPLIANCE.