Reduce Costs & Accidents




Cooking Oil Management




"This is a no-brainer."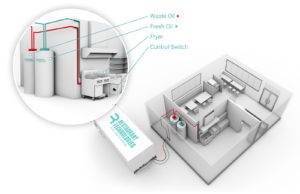 TOTAL OIL MANAGEMENT
Managing cooking oil is one of the most dreaded tasks in any restaurant. It's dangerous. It's messy. It's labor-intensive. That's why RestaurantLink offers RTI Total Oil Management.
With this system, you never have to worry about transporting hot oil, or storing, handling and recycling used oil.
How does it work? A service truck delivers the fresh oil and picks up the used cooking oil. And with RestaurantLink, there are no upfront capital costs, or unexpected service charges. Oil is priced just pennies over the commodities market.